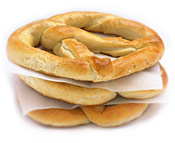 I don't mean for this to be a recipe blog. But my bread recipe was requested. Since I am sitting here with my cookbook I thought I would include one more. This one is for Soft Pretzels. Lately I have been using this recipe to make bread sticks to go with our spaghetti dinners. They taste so good dipped in sauce.
1 1/4 cups of water
1 T light brown sugar
1 packet of active dry yeast (2 1/4 tsp)
3 1/4 cups flour
1 1/2 tsp salt
Heat the water until it is warm not hot. Mix the brown sugar in the water then sprinkle the yeast over this mixture. Let it sit while you get the flour and salt ready. Pour wet mixture over the dry and mix well. Knead the dough until it is smooth. Then cover and let it raise in a warm place for about 45 min to 1 hour. If you are making pretzels divide dough into 6 parts and roll each part into long thin snakes about 3 feet long. (my kids love this part). Shape the ropes of dough by making a circle and twisting the ends. Fold ends back over the circle and pinch the dough. Place the finished shapes on lightly greased baking sheet. Paint on each pretzel a little water/sugar mixture.
1/2 cup Hot water
1 tsp sugar
Top them with a bit of course salt. Set aside for 10 min. Bake pretzels for 12-15 min.
Melt 3 Tablespoons of butter.
Place a sheet of aluminum foil under a wire rack and transfer baked pretzels to the rack. Using pasty brush, apply melted butter liberally over the pretzels; this makes them soft and flavorful. Enjoy them while they are warm.
If I make them into bread sticks I just don't shape them. I roll them out and cut the ropes into 4 in long sticks and proceed like normal. After painting on butter I sprinkle on some garlic Salt. The smell of the butter and garlic is wonderful! My kids ate 4 sticks each last night at dinner. They could have eaten more except they were gone.
You can also make these into a dessert by sprinkling on some cinnamon and sugar before baking and again after you butter them when they come out of the oven.
Not the most healthy treat but very tasty!